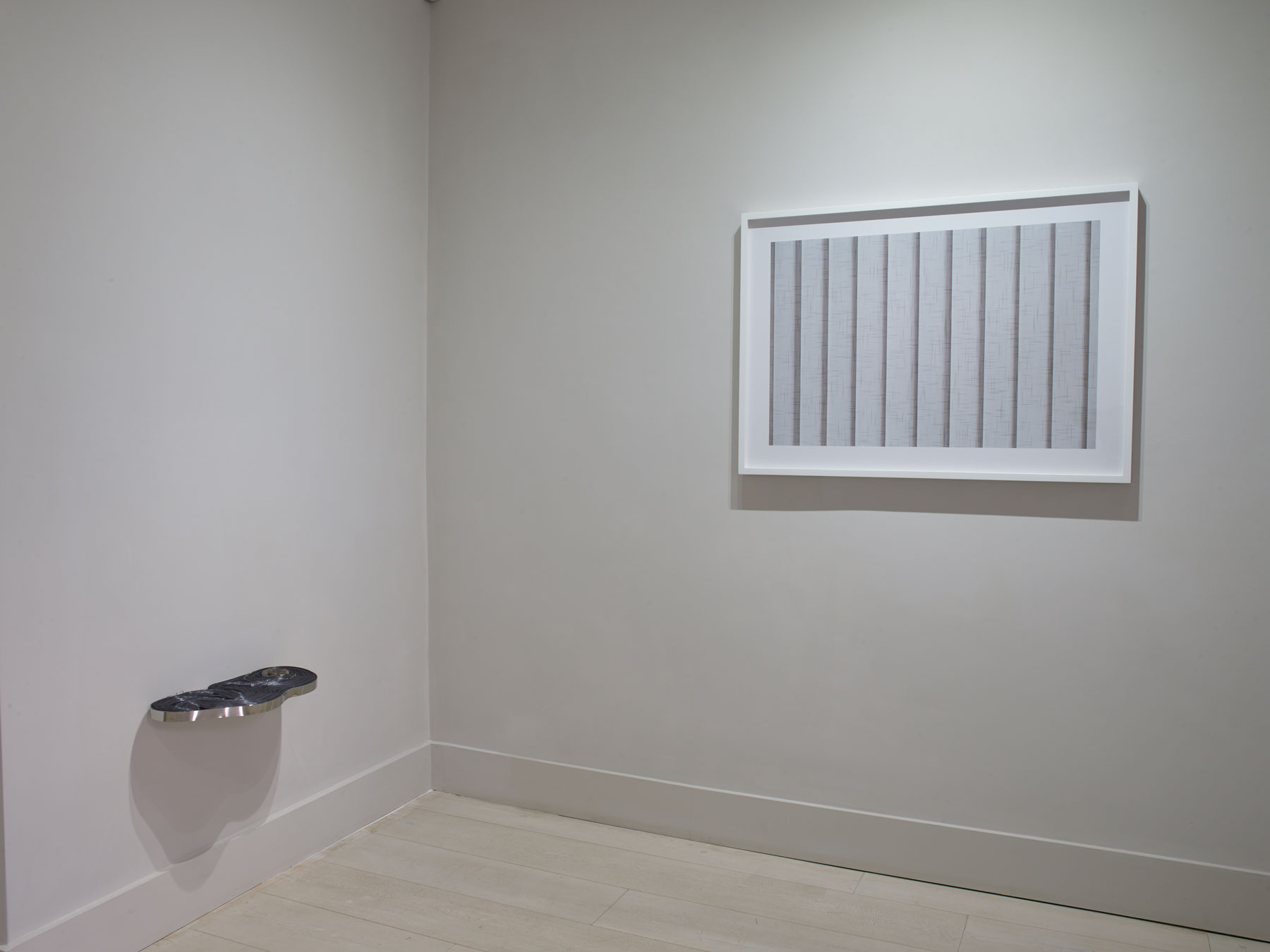 In the Labyrinth
8 Feb–5 Apr 2019
(Large Glass)
Into the Labyrinth
Apr 2020–Apr 2021
(Dalby Forest/
online
*)
In The Labyrinth
is a group exhibition of works by contemporary artists including Alice Channer, Dorothy Cross, Tonico Lemos Auad, Helen Mirra, Alison Turnbull, Mark Wallinger and Carey Young.
The idea of the labyrinth has inspired many artists through time, as a recent book by Charlotte Higgins has shown. Her book,
Red Thread: On Mazes and Labyrinths
, considers the idea of the labyrinth – the mythical, confounding prison made by Daedalus to house the Minotaur – as the original symbol of human imagination.
This exhibition, inspired by Higgins' book, invites seven contemporary artists to make new work or select recent work suggested by the theme.
British artist Mark Wallinger presents two of his labyrinth plaques, originally conceived for the London Underground. Each of London's 270 tube stations has one plaque, each of which is slightly different. The designs' circular forms recall Frank Pick's classic London Transport roundel and the tangle of subterranean tunnels that make up the network.
American artist Helen Mirra presents a new woven work, depicting a labyrinth pattern. Mirra's work is deeply invested in the possibilities of walking and weaving, and a labyrinth must be navigated on foot. The form depicted on Mirra's weaving echoes a graffito from 1200 BC on the back of a clay tablet in Pylos, Greece.
Elon Musk
, by British sculptor Alice Channer, consists of a tightly pleated lamé material packed into a flattish metal structure designed to be fitted low down on a wall, jutting out. The sculpture recalls bracket fungi, which protrude shelf-like from the trunks of trees. At the centre of the pleated form sits an ammonite fossil.
Carey Young's photograph of staggered white columns could be an Op artwork; pale vertical lengths, flecked with scratches of colour, recede enigmatically in 2D. But the work is titled
Prosecutor's Office
(2019): The columns are opaque slats that shield the workings of the law from prying eyes. The blindness of justice is echoed in Dorothy Cross's nearby
Hemispheres
(2019), a set of weighing scales suspended from a coat hanger with steel wire. The two pans, made of human skull bone, are gold leaf–gilded and hold small meteorites.
*
into-the-labyrinth.co.uk
A number of site specific pieces were intended to be situated in Dalby Forest reimagined here due to the constraints of the moment brought about by the corona virus and the cancellation of the exhibition in Dalby Forest and echo the mysterious routes through trees and across the plateau, where paths circle and spiral, turn in on themselves or end abruptly. The artists' ideas reverberate with the dry stonewall maze.
Alice Channer
,
Dorothy Cross
,
Tonico Lemos Auad
,
Hendl Helen Mirra
,
Alison Turnbull
,
Mark Wallinger
,
Carey Young
Press
Artforum.com, 'Critics Pick:
In the Labyrinth
at Large Glass', Emily LaBarge, February 2019
The Art Newspaper, '
Diary: Get lost in the myths and mazes of Large Glass's labyrinthine show'
, Louisa Buck, 11 February 2019
The Guardian, '
We gotta get out of this place! The artists snared by the lure of the labyrinth'
, Charlotte Higgins, 3 February 2019
---