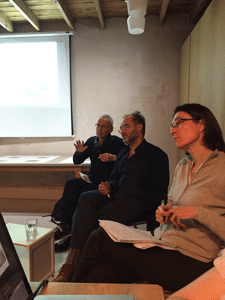 Conversation Guido Guidi with David Campany, Dr Marina Spunta and James Lingwood
15 December 2016
Dr Marina Spunta, David Campany and James Lingwood discussing the wider context of Guido Guidi's work, exploring the American photographic influence on post war Italy, the intersections between contemporary Italian literature and photography and the investigation of place and landscape in the region at this time.

David Campany is a writer, curator, artist and teacher working mainly with photography. His books include Walker Evans: The Magazine Work (2014), Jeff Wall: Picture for Women (2010), Photography and Cinema (2008) and Art and Photography (2003).

Dr Marina Spunta is Senior Lecturer at the University of Leicester. She is author of 'a number of publications including 'Voicing the Word: Writing Orality in Contemporary Italian Fiction' (2004) and a monograph on the writer Claudio Piersanti.

James Lingwood has been Co-Director of Artangel since 1991. He has also curated a number of exhibitions for arts institutions internationally, including major survey exhibitions with Bernd & Hilla Becher, Susan Hiller, Juan Muñoz, Thomas Struth and Thomas Schütte.
---