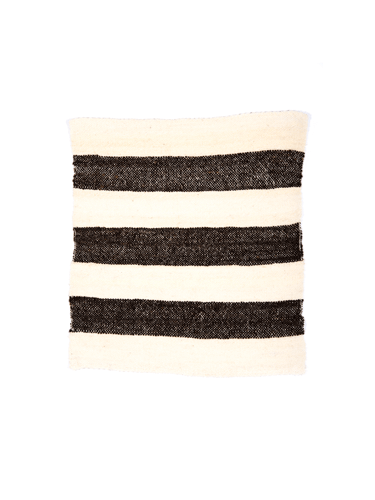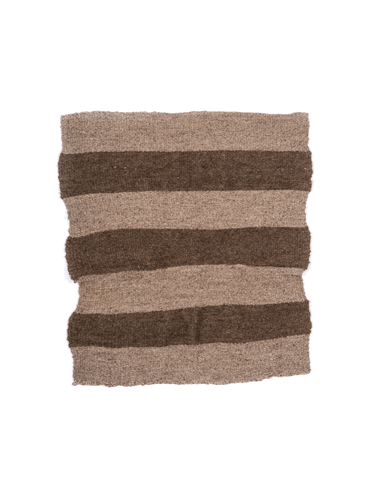 A Coin in Nine Hands: Part Seven

Helen Mirra, Standard Incomparable

8 Jun—7 Jul 2018


Marguerite Yourcenar's novel, A Coin in Nine Hands (1934), follows the journey of a ten-lira coin as it travels between nine different people on a single day in Rome in 1933.

Inspired by this idea, Large Glass presents the work of a range of artists across nine parts or exhibitions over the coming nine months, revealing connections, exchanges, and highlighting some of the hidden bonds that bring artists together.

For her project Standard Incomparable, the artist Helen Mirra put out a call to weavers of all ages and experiences from any continent, asking them to contribute pieces made according to the same simple parameter:

'The finished piece is more or less a square – the approximate measurement of the weaver's arm. The warp threads can be of any sort, and may or may not be visible, the weft is undyed yarn of plant and/or animal fibre, from the region, in seven alternating stripes, each the width of the weaver's hand (including the thumb), in two shades, materials, or weights. The difference between the two alternating stripes can be strong or subtle.'

75 weavings came in from across the world, and nine of these have been selected to show alongside two of Mirra's own woven works.

The collection was shown at the Armory Center for the Arts in Pasadena, US (2016), and Kunst Meran, IT (2017), and will be exhibited at the Isabella Stewart Gardner Museum in Boston, US later this year.

---